Selling a home is a long process, and with so much time and resources invested, extra steps like staging can help a seller's listing stand out from the crowd.  Even in a seller's market, home staging has the benefit of attracting buyers, as it helps viewers to connect emotionally and boosts the perceived value of the property. However, bad home staging can have the opposite effect. Follow the five staging tips below when preparing your home for buyers.
1. START WITH CURB APPEAL
The first part of the property that buyers see is the front yard, which is why neglecting curb appeal can be one of the worst mistakes to make. Keeping up with regular maintenance like trimming trees, mowing a front lawn, and shaping bushes helps your home look presentable from the outside. Also, consider power washing or sweeping walkways and driveways, cleaning the outside of windows, and washing down the home's exterior if it's looking worn.
As prospective buyers enter a home through the front door, sprucing up the area can positively impact a mindset before entering the home. Make it presentable by wiping away dead leaves and cobwebs, dusting the nooks and crannies in the door and corners of the wall, and adding a pop of color. A new doormat, a potted plant, or a hanging wreath are all good touches.
2. DEEP CLEAN AND DECLUTTER
Buyers notice mess with disdain when touring a home. Leaving crumbs on the kitchen counter or clothes on the floor detracts from the overall appearance of the property, as well as the viewing experience. Hire professional cleaners to get a spotless shine on kitchen appliances, floors, and windows. Or complete the process yourself by mopping and vacuuming floors, dusting cabinets and shelves, and removing stains from furniture.
Then, declutter the home. Having extra clutter can make the home feel smaller than it actually is, which can dissuade a buyer from considering the property. Sort through items you want to keep and donate, then organize belongings in cabinets and closets. If storage spaces are still overflowing, consider renting out a storage unit to keep items safe and out of the way.
3. STAGE WITH PURPOSE
Hiring a homestager can help a seller stage their home with purpose, although it isn't necessary. Applying the basics can have a positive impact on your home's appearance and interest buyers in the area. Overall, it's best to keep decorations neutral and light. Paint over walls or replace wall art with tan, white, or gray designs, with one or two colors threaded throughout the rooms. This creates a sense of cohesion and purpose.
When touring a home, personal items can make it difficult for a buyer to imagine living in the property. Sellers should take down things like family and friend photos, fridge art, and mementos to create a blank slate. For home styling tips to use in the rest of the home, review the information below.
LIVING ROOM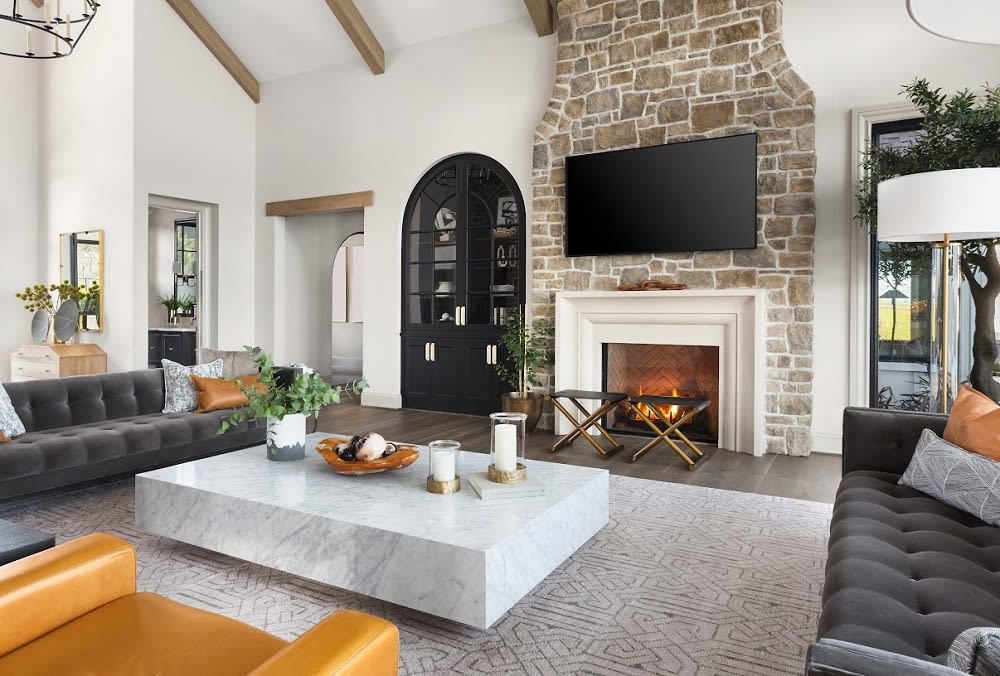 The living room is one of the most important areas to stage, as it's a large common area that a homeowner uses frequently. A staged living room should have a room flow that leads to a focal point, which may be a television, fireplace, or a piece of art. Keep the area clean and open by rearranging or removing furniture and sticking to neutral tones. Additions like throw pillows or tabletop decorations are a great way to reincorporate some color.
KITCHEN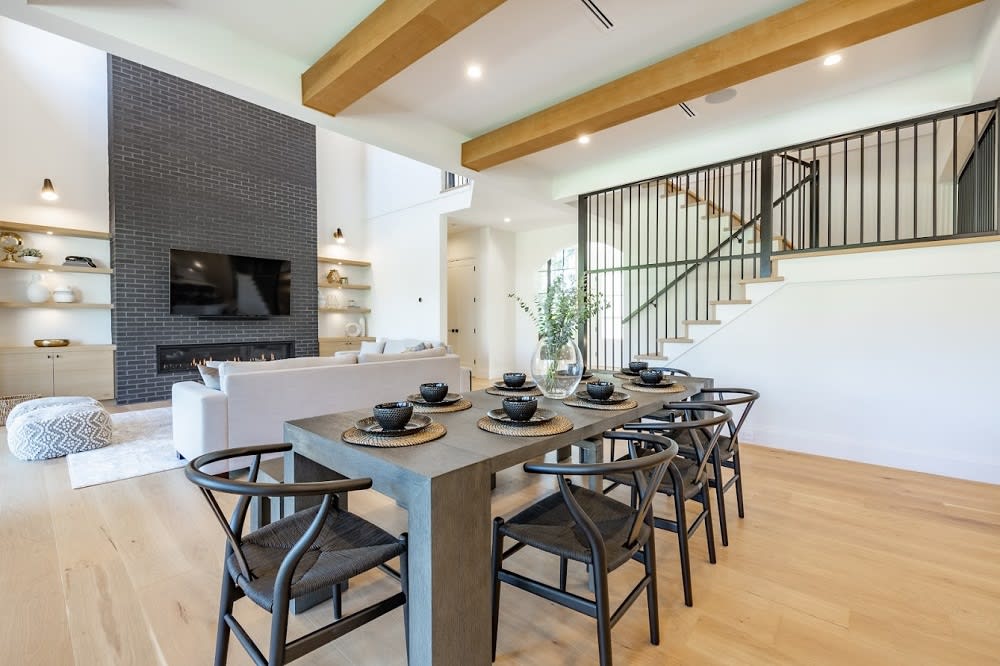 Kitchen staging is equally as important as living room preparation, as it serves the dual purpose of cooking meals and a gathering place. Minor kitchen remodels have a high return on investment and are one of the best ways to attract buyer attention. Replace hardware on cabinets, upgrade appliances, and keep countertops clear of daily items. Then, add some natural elements like a vase of flowers or a bowl of fruit to liven up the area.
BEDROOM
Buyers searching for homes also put a lot of weight on master bedrooms. Gather bedroom staging ideas online, searching for ways to make the room appear inviting and comforting. Buyers should feel like they can retreat to a bedroom after a long day and relax. Update the comforter, add a few pillows, and lay a throw blanket across the foot of a bed or the back of a chair to make the area cozy. Also, make sure any personal items and laundry are out of sight.
4. THINK ABOUT FURNITURE FLOW
Having too much or too little furniture can skew the proportions of a room. Although an open and spacious look is desirable, not having enough furniture to define negative space can also make the room appear small. Rent out stage furniture to help buyers see how much space is available in the home. On the other side, oversized furniture or too many pieces make the room feel small and cramped. Find the natural pathways of a room, and make sure they stay unobstructed when arranging couches, coffee tables, and ottomans.
5. AIM FOR LIGHT AND BRIGHT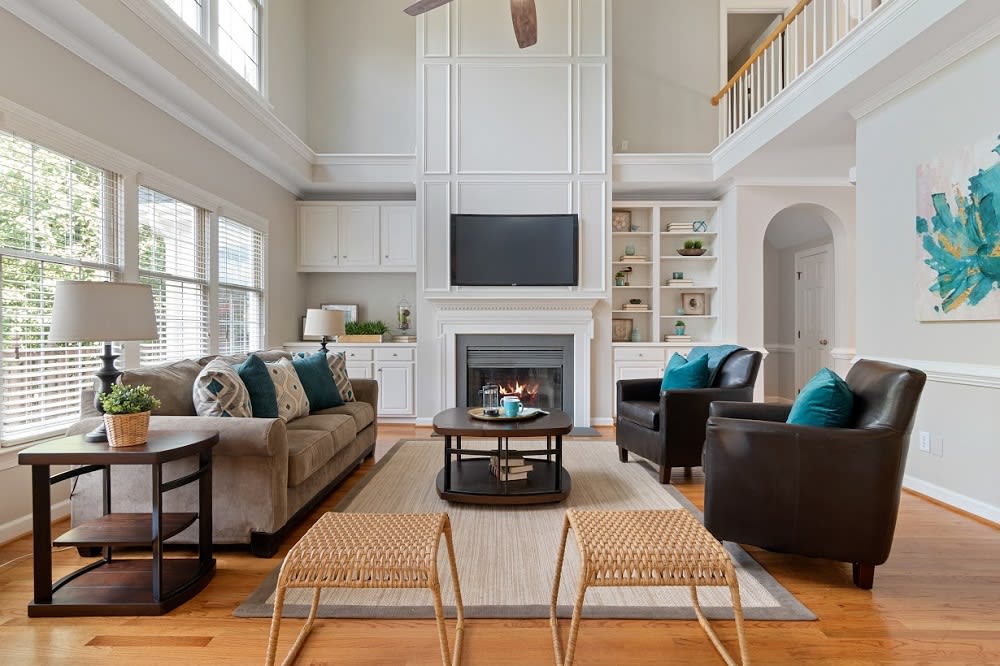 Lastly, keep all areas of the interior light and bright for a more inviting atmosphere. To let in natural light, clean windows and window screens, dust off blinds, and replace thick curtains with sheer ones, or none at all. Amping up artificial light also helps. Consider replacing bulbs so they're all the same wattage and color, and remove any broken or dimming lights. Also, clean lamps and light fixtures, and add standing lamps to areas that are shadowy.
FOLLOW THESE TIPS FOR A QUICK SALE
Home staging is important when it comes to a sale, as the connection it fosters with a buyer can help a home sell faster. Start with the home's exterior, then prioritize rooms buyers pay attention to the most, like kitchens, living rooms, and bedrooms. When you're ready to sell your home and you need help with staging, contact trusted local agent Sonya Peterson to guide you through the process.